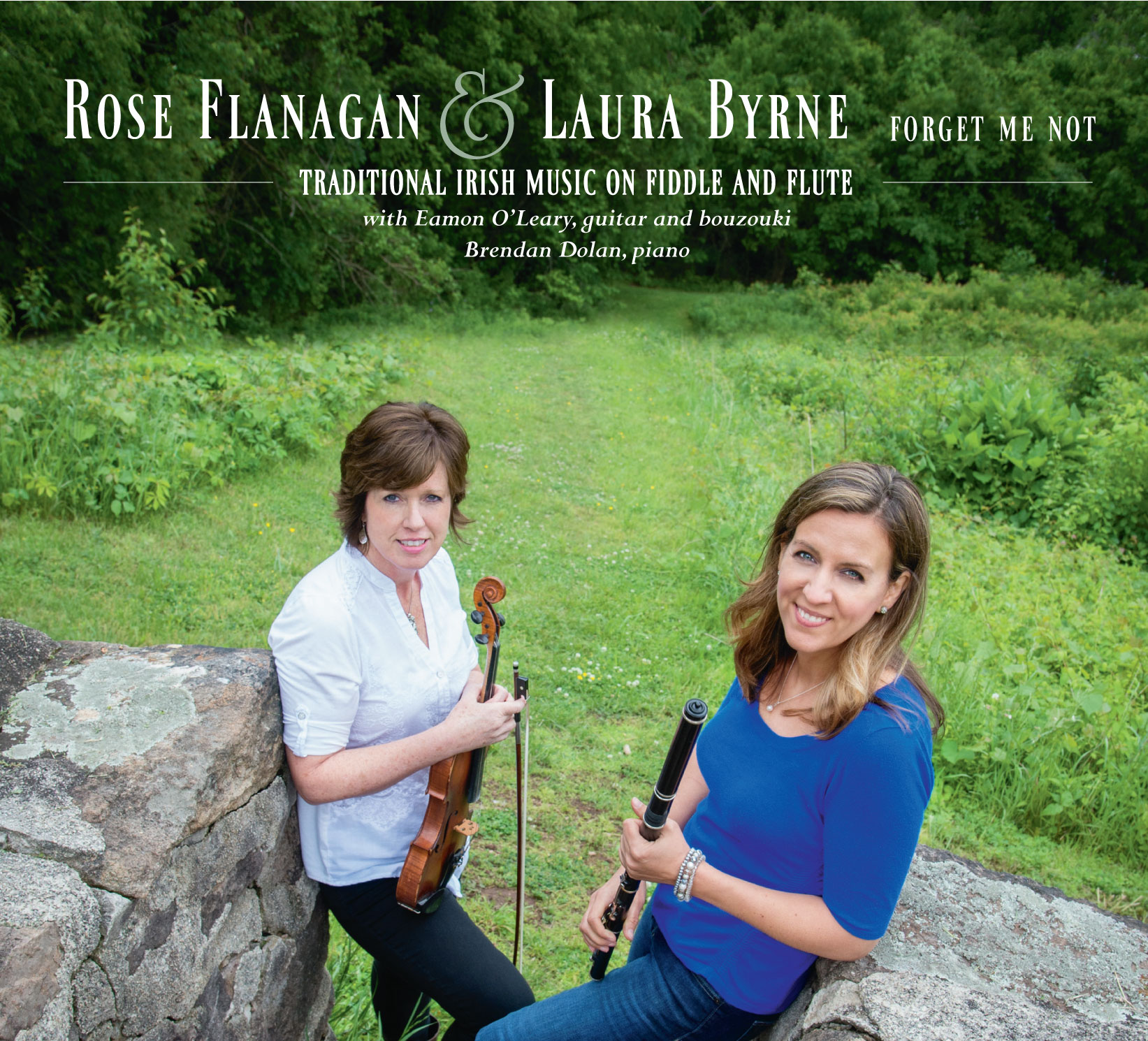 Forget Me Not by Rose Flanagan and Laura Byrne with Eamon O'Leary, guitar and bouzouki and Brendan Dolan, piano,Available on CDBaby and Itunes. 
Forget Me Not Is Impossible to Forget by Earle Hitchner
Forget Me Not, the debut duo album by fiddler Rose Flanagan and flutist Laura Byrne, is an irresistible reflection of their shared core values in Irish traditional music. They believe in preserving tradition without knee-jerk duplication, ornamenting a tune without ostentation, and otherwise playing together in a way that allows their distinct musical personalities to blend in a melody without capsizing it. All of that is the outcome of separate, longtime listening, learning, training, teaching, and mentoring carried into their music together over just the past few years.
Each is a popular, highly effective instructor prized by various music schools, camps, and festivals and especially by her adopted hometown: Bronx-born Rose Flanagan in Pearl River, N.Y., and Vergennes, Vermont-born Laura Byrne in Baltimore, Md. Each is a member of a céilí band—Green Gates for Rose, and Old Bay for Laura—where close musical communication and balance are paramount. Each has previously been featured on recordings: Rose on Cherish the Ladies in 1985 and Craic in the Catskills in 2011, and Laura on her solo albums Tune for the Road in 2005 and Lucky Day in 2010 as well as the Old Bay Céilí Band's Crabs in the Skillet in 2011. Each has been individually honored for achievement: Rose, an alumna of Fordham University, was inducted into Comhaltas Ceoltóirí Éireann's Mid-Atlantic Region Hall of Fame in 2013, and Laura, an alumna of the Peabody Conservatory of Music at Johns Hopkins University, has received the prestigious Individual Artist Award for solo performance from the Maryland State Arts Council in both 2010 and 2011.
Perhaps most striking on this album is the inescapable sweet center of their tandem playing that is neither cloying nor constrained and that ultimately forms an Irish traditional music bridge between New York City and Baltimore, where tempo, detail, and feeling are served by skill. Rose and Laura could not be more compellingly paired than on the 11 tracks they perform together with the sure, subtle support of Dublin-born Eamon O'Leary on guitar and bouzouki and/or New York-born Brendan Dolan on piano. Add in two standout solo tracks—Rose's rendition of the reels "Glencolmcille/Martin Wynne's #4/The Curlews" with Brendan backing her, and Laura's unaccompanied rendition of the slow air "Sliabh Geal gCua Na Féile"—and what you have left is what's incontestably right. This is music played with transportive, hand-in-glove grace by two admired American masters whose formal emergence as a recording duo on the aptly titled Forget Me Not should be cause for widespread celebration and, no doubt, praise.
—Earle Hitchner writes about Irish traditional and other roots music for The Wall Street Journal.